The following is from Wm Shankland's will dated Sept 1730:
Item - I leave and bequeath unto my son William Shankland all the plantation in Angola Neck upon which he now dwells with all the Improvements and appurtinances Thereunto belonging as also the cattle belonging to me upon the said plantation to him and his Heirs forever.
On April 5th 1943 there was a newspaper article regarding the death of Franklin Shankland Marsh (a descendant of Wm Shankland) in a house fire at Cooks Rest. According to his mother Bertha, along with the tragic death of her son, a family bible, and a parchment deed from the King of England (Duke of York patents) to William Shankland were destroyed in this pre-revolutionary house. While it seems unlikely due to the time frame that this deed could have been made to William directly it is quite possible that he bought the property from the original owner and the parchment deed was signed over to him.
In 1769 a survey was made of a property to the benefit of William Shankland, orphan son of Mills Shankland (grandson of the above William). This and a survey from 1772 gives us the dimensions of the property and shows the land had been divided between Mills and his brother Moses.
In modern times the acreage seems to fit best in the area Shown. Google maps in the 1000 ft scale shows property lines and the southern edge of the golf course is a near perfect match the the northern edge of this property and the eastern edge fits Love Creek the best.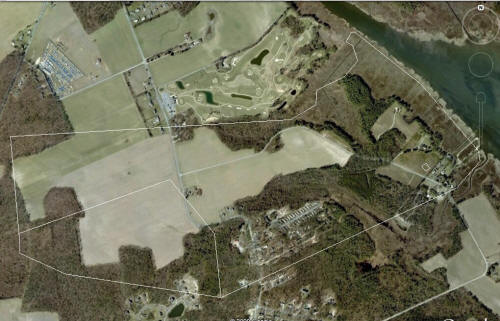 Image from Google Earth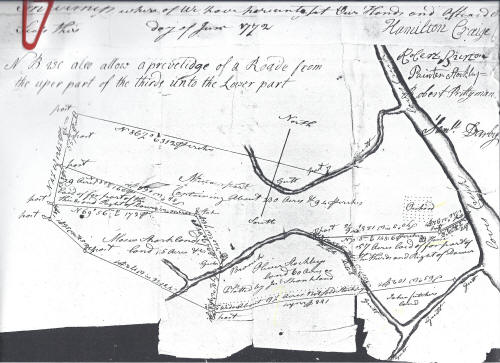 1772 Survey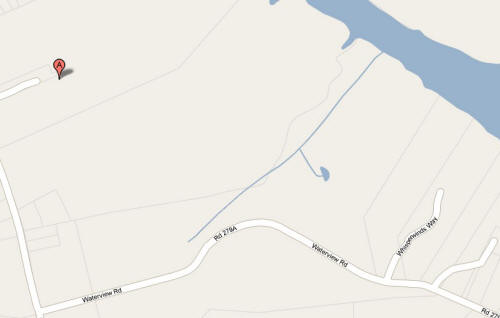 Google Maps
The faint line in the center of the map is the southern boundary line of the Golf Course an lines up well with the 500 acres northern boundary. Notice where Waterview road turns NE on the map then look at the satellite picture. On the Southside of the road is a small clump of trees and inside is the remains of Cook's Rest where Franklin Marsh lost his life in a house fire. Interestingly the 1772 survey shows a house in a different location along with an orchard. That is represented with a small square in the Google Earth shot. The 1669 survey indicates that the property had already been divided between Mills and Moses Shankland.