Snow Hill, Maryland
William (W?) Shankland came to America around the 1680's and settled first in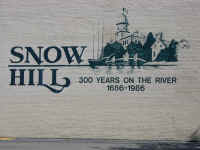 Snow Hill Maryland. There are several important documents in the Maryland State Archives proving this fact. One shows that he signed an oath of loyalty to the King and Queen of England in 1689, the first official record of his appearance in this Country and Somerset County MD. He purchased 300 acres of land called Parker's adventure in 1694. In 1704 he purchased 300 acres in Lewes, Delaware (pronounced Lewis) and in 1714 he signed a power of attorney along with his wife Elizabeth selling that property to John Dreden for 9000 pounds of tobacco. The English made it difficult to obtain cash currency and many things were sold for commodities. Hypothetically he may have shipped this tobacco to England in exchange for household goods, clothing, and farming tools.
The method used for surveying property is the English metes and bounds system where the perimeter of the property is described by angles and lengths.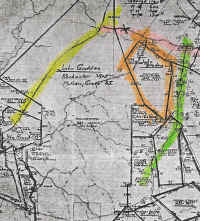 It is usually referenced by a known survey to a neighbors property and some non-permanent marker like an Oak Tree. Unfortunately this makes it very difficult to determine where that property is located today.
In 1930 Harry Benson from the Maryland Archives undertook a project to study all of the ancient original Lord Baltimore land grants and drew them on a modern map.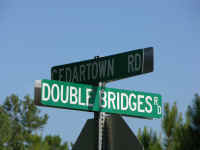 Thanks to this work it is possible to find William's first piece of property. It is located on the Southwest corner of Cedartown Rd and Double Bridges Rd about 3 miles Northeast of Snow Hill. Modern records show that it is private property, owned by two different individuals and consists of farm crops and woods.
The property runs for approximately 3/4 mile along Cedartown and one mile along Double Bridges. It is difficult to determine by casual observation if it actually extends to the roads. It was not unusual to leave some of the property in woods. It provided fire wood, game, nuts, fruits, and lumber.
| | |
| --- | --- |
| | |
| Corn and woods from Cedartown Rd and Double Bridge Rd looking Northwest. | Soybeans and woods from Double Bridge Rd looking Northeast. |
Lewes, Delaware
Lewes (pronounced Lewis) is located on the mouth of Delaware bay making it a seaport and a city conveniently located by water to Philadelphia.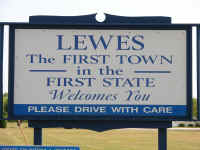 This arrangement offered many more opportunities for settlers than some of the inland cities and areas. Many people relocated here from Maryland. Today it is a wonderful, well preserved, city with a great sense of historical pride. The Lewes Historical Society has been able to purchase some of the significant buildings and has opened them as individual museums. In addition there is a one square block area called Carpenters Square that is zoned for historical buildings owned by individuals and relocated to this block. An unusual local custom has been to pickup these small homes and move them to another site. As a result many historic properties have been saved.
The oldest structure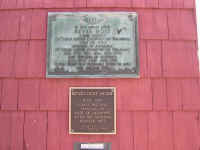 still standing in the State of Delaware is the Ryves Holt House in downtown Lewes. Built in 1665 it was used for many things over the year including a bar. During the earliest days it served as a local court house for legal matters. The Shankland family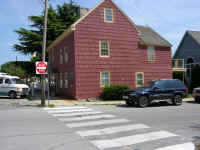 held many important positions and were prominent land holders. There can be no question that that were in and out of this house constantly over the years.
Inside the home are many artifacts, not necessarily related to the house, but historically interesting. Several sections of the walls were covered with Plexiglas during the restoration to show construction methods. One is a survey by John Shankland drawn in 1773 and later printed and used as a map of this area along Lewes Creek.
Ralph Prettyman a descendant of the historic Prettyman family has written a history of Tower Hill and includes families that were neighbors or connected to the Prettymans including Rhoads Shankland.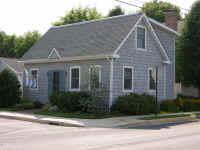 Rhoads was the most prominent Shankland of Lewes and was the great-grandson of William through his son Robert. Across the street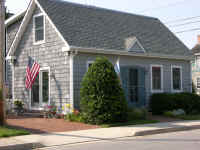 from Carpenters Square is the "Rhoads Shankland House" relocated from its original location (maybe more than once). Ralph theorizes that this may not be Rhodes home due to some surveys that he has located but the possibility exists that it could have been an even earlier Shankland home.
On 1/25/1771 Rhoads purchased from Joseph and Samuel Shankland for 1200 pounds a 410 acre tract of land Called St Martins. This piece of property had the following history. Granted by patent to Edward southern on 1/15/1675 his widow Mary sold it to Griffith Jones on 3//6/1685, who in turn sold it to Samuel Preston. Scharf, in his history of Delaware, states that "One of the first five property transactions between private parties in the State of Delaware was the purchase of 400 acres on Pagen Creek by William Shankland from Samuel Preston. This Tract of land was called St. Martins and through it was afterwards located the Well known Shankland's Lane." (The Main Street into town. JNS). William willed this property to his son Joseph and it eventually went to his sons. By later surveys it is possible to see where St Martins is currently located. The area today know as Quakertown, formerly Prettymanville, occupies the former Shankland property.
Rhoads donated land to the Ebenezer Methodist Church for a cemetery and his wife Mary Stockley and son Rhoads B Shankland is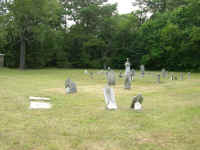 buried there along with many other people. This cemetery exists today and is located along Savannah Road (formerly Shankland's Lane) . Stand there, facing south, and all before you was St. Martins on Pagen Creek. The property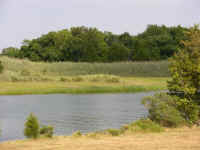 was on both sides of the road but more on the West side.
When William died ca 1730 he owned over 1200 acres of land. One of his purchases was an Island of Marsh in Lewes Creek, later called Shankland's Island. This island was also passed down through the generations until it was dredged out during the construction of the Lewes-Rehoboth Canal. This island could have been used for grazing cattle, hunting, and/or harvesting "Marsh Hay". The photo depicts the north shore of the Canal just west of town and either is representative of what it looked like or possibly a remaining part of it.
Williams will gives his plantation in Angola Neck to his son William.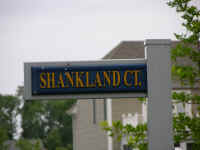 The present location of this property is unknown to me at this time but it is south of Rehoboth Beach. Interestingly there is a street in the approximate area called Shankland's court but I have no information on why.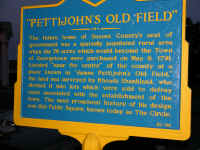 Rhoads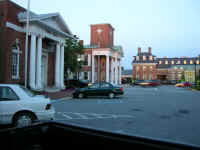 among many other things was a surveyor and laid out the town of George Town.
Carlisle, Kentucky
Most of the forth generation of Shankland's left Lewes, Delaware during the time frame of 1790 to 1820 or so. The 1820 census show few Shanklands left in Delaware. Joseph's grandchildren went to Philadelphia. Roberts grandson Rhoads stayed until his death but his family left for Ohio near or after his death in 1816.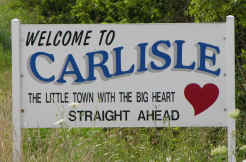 William only had a Granddaughter who married a Burton and Marsh. Some of those descendants stayed in Delaware on the plantation in Angola Neck. Johns grandsons John and David migrated to outside of Carlisle, KY along Cassidy creek near Myers Station.
The exact timeframe is not know nor exactly how they got there. Some pioneers went north to the Susquehanna River and floated down it on flat boats to the Ohio and into the Licking river. Others came overland possibly by wagon or horseback through the Cumberland gap possibly on the Bradock road. John's 5th child David was born April 9th 1795 in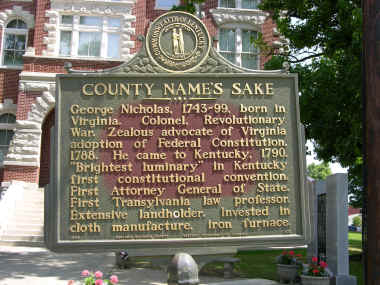 Nicholas County, KY while the first 4 children and his wife Sarah "Sally" Harney were all born in Delaware. John and his family must have arrived by 1794. John had nine children and all of them left Kentucky as adults.
During the early time there were still a few skirmishes with the Indians and Daniel Boone lived in Nicholas Co. with his family for one year.
More research on this area should be done but I assume that John bought a small piece of property along Cassidy creek and raised and supported his family on it. Farms were small and hardly more than large gardens used for the families needs. Their subsistence was supplemented by game, wild fruit, and vegetables. In 1813 John bought another 100 acres of land from Michael Cassidy, presumably from the Cassidy creek Cassidys.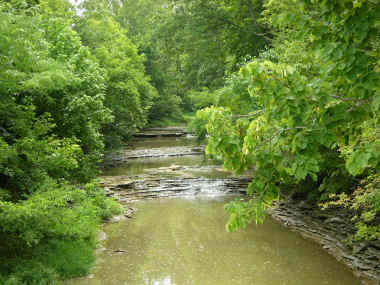 This land was woods which was either partially cleared or had some small fields. Woods were valuable for food, medicine, lumber and firewood. Later, after Thomas Jefferson bought the Louisiana Territory from France in 1803 for $13 million dollars ($.03 per acre) it was possible to ship goods to New Orleans via the Licking, Ohio, and Mississippi Rivers. This allowed people in the Cassidy creek community to raise much needed cash crops such as tobacco.
James Harvey and Andrew Gibb Shankland, the two youngest children, inherited their father's farm after his death in 1834 but could not sell it until after the death of their mother Sally. John's will leaves each of his other adult children $.50. It was not unusual to help each child as they got married and therefore not leave them an inheritance.
The WMA (Wildlife Management Area) , part of the Kentucky Fish and Game department,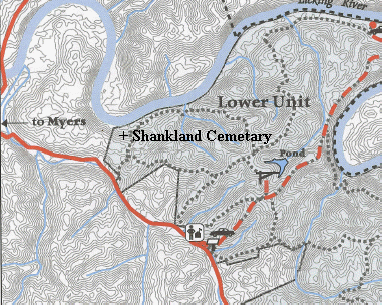 had purchased the large Clay farm along the Cassidy creek. (The upper unit) and later added a smaller farm (the lower unit) to its holdings. This lower unit contains all or part of the 169 acre farm sold by James and Andrew Shankland to John Stoops.
After 4 days of research, talking to some "old timers", and the able assistance of Kimball Booth we found the fabled Shankland Cemetery along with John and Sally's grave. This is the oldest direct ascendant grave I have found. This beautiful burial ground is surrounded by a large hand built stone wall. Inside are many primitive style stones and two "modern" engraved stones. One is for John and Sally and the other for Margaret Shankland wife of Benjamin Franklin Shankland. At least one of the natural stones had some engraving on it.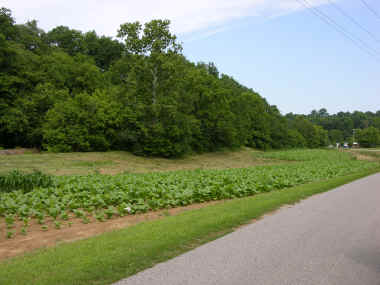 The cemetery is located at the top of a hill and overlooking the licking river at the back. I don't have a modern survey but this site is on the Shankland property and standing there gives one a sense of where they lived. The property must extend from this site down to Cassidy creek. The WMA has removed the remains of 5 different buildings nearby but it is unknown if any of them belonged to the Shanklands. Currently tobacco is being raised along the creek on the old Shankland home and the land between the road and creek and is still owned privately.
You may visit this place by checking in with the office on the WMA and have them drive you up to the site in a 4 wheel vehicle. It is also accessible by horseback.
The Lat - Lon is 38.3534 -83.9292
| | |
| --- | --- |
| | |
| Looking up the road towards the gate to the WMA and the Cemetery. | The Shankland Cemetery and the backside of John and Sarah's Headstone. |
| | |
| Stone wall detail. | John Shankland |
| | | | |
| --- | --- | --- | --- |
| | | | |
| John N Shankland 7/15/2004 | "Primitive Stone" | The Wall | John and Sally |